Best Mens Loafers for the Summer Season
The official start of the Summer Season is June 21st: that means heat, vacation, and new outfits for the right destinations. Outfit ideas always float around this season like a stylish pool inflatable, [cupholders included] so we decided to narrow down a few of our favorite loafers and pair them with some of our favorite summer vacation spots. Without further adieu here's your guide to the summer season: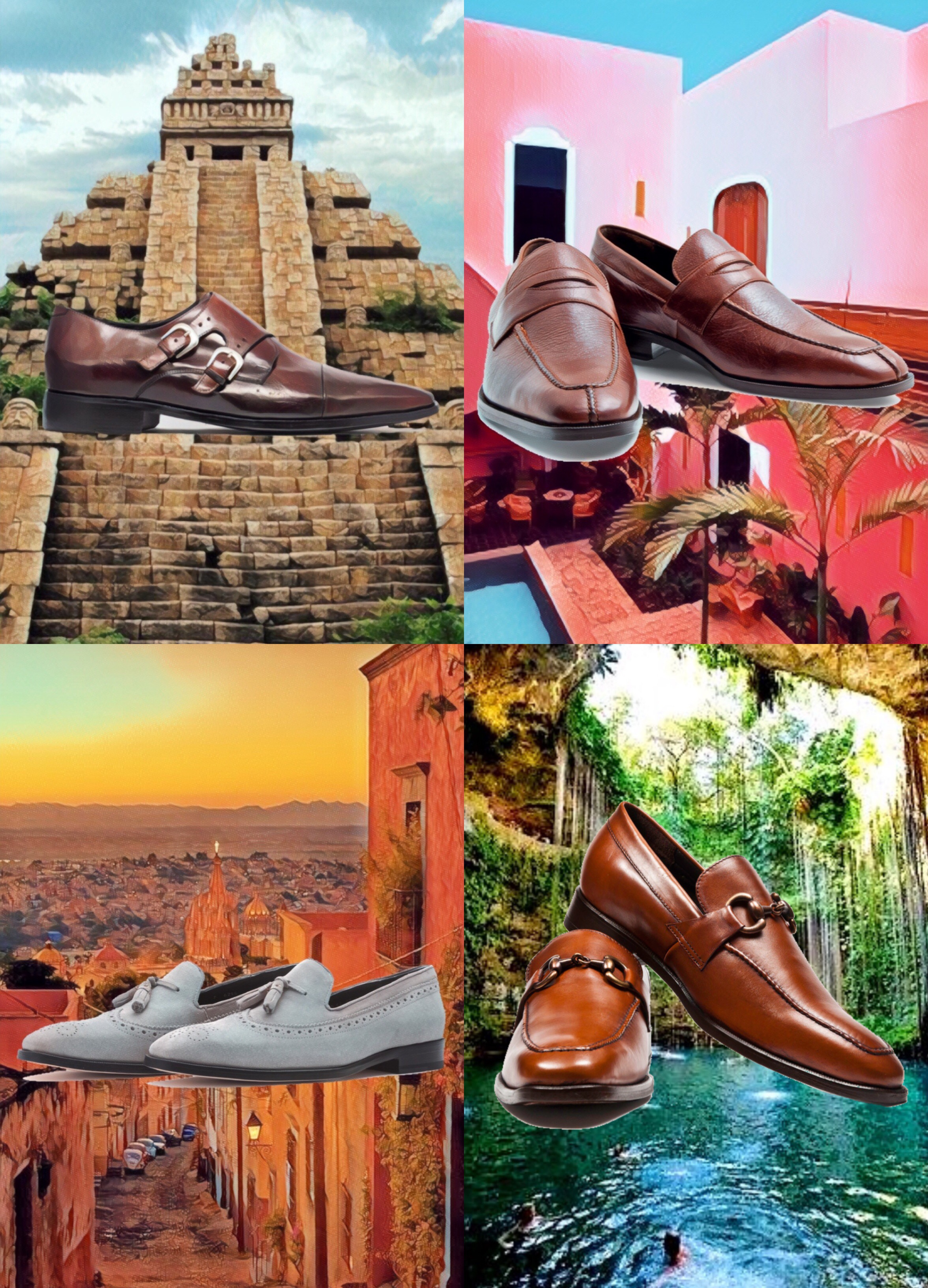 A menswear vacation mecca.
The Burgundy Double Monk: Chichen-itza
Here's a shoe that won't quit, even climbing up the Temple of Kukulcan in Chichen Itza, located in the state of Yucatån, Mexico. One of the southern most regions of the country, Yucatan is a great place for a tropical vacation, and a delicious beachside dinner. The Coqui Coqui Residence & Spa is an excellent boutique hotel in Merida only a short drive away from the mayan ruins. It provides a rustic colloquial luxury experience nestled in a city vibrant with life. While you dine in their elegant boutique restaurant you'll find that your Burgundy double monk shoes shine with the same hand made elegance that surrounds you in this tropical and historical getaway. A must see region with much to offer, this opulent and enchanted vacation is at the top of our list next to our most classic style of loafer. Wear these gorgeous summer shoes with a pair of off-white linen chinos, and a beige linen button up to really bring a flash of style. [cabana hat optional]
Grey Suede Loafer: San Miguel De Allende
Not to be confused with a european village, Colonial-Era San Miguel De Allende is a historic city on a hill nestled within Mexico's central highlands. Known for baroque architecture and cultural festivals: this is the perfect town to walk around in while bringing a modern flare to the cobble stone streets. Stay at the mixed era modernized hotel Dos Casas featuring modern interiors within two conjoined houses to create a unique experience unlike any other. The hotel boasts an extraordinary view of the architectural beauty that is the historic church bell tower when seated in their rooftop bistro. This setting creates a timeless luxe experience. The perfect setting to wear our Grey Suede Loafer, a modern classic. This tasseled loafer creates an elegant conversation piece that is subtle yet catches the eye. A soft suede keeps your feet comfortable and cool and looks great paired with jeans or a light blue linen suit. A killer combo for an amazing vacation.
Penny Grasso Loafer: Merida, Yucatan.
A little rose colored hue never hurt anyone, and it definitely provides an Instagram worthy back drop at the Rosas & Xocolate boutique hotel in Merida Mexico. This ultra-fabulous all pink resort harbors not only an incredibly vibrant decor but also a decadent chocolatier and an indulgent spa. Relax poolside with a dozen roses in petal form caressing you, eat wistfully accommodated in the center of a tropical oasis, and dress stylishly with a pair of adornments handcrafted from the same country you're inhabiting. The Grasso Penny loafer ads texture and beauty to any outfit while staying refined in a sensible style for the beach or the town. A comfortable slip on that you can wear in versatile ways from a pair of linen chinos to a set of groovy swim trunks. These loafers elevate any style and keep you looking dapper and cool while enjoying the most out of life in a place that allows you to do so. Don't miss out on the opportunity to make a statement while staying casual and dawn the loafers of your dreams during the vacation of your dreams.
Tasseled Suede Loafer: Playa del Carmen
Venice isn't the only place with gorgeous canals, Playa Del Carmen is a hidden gem along the coast of Mexico if only because it's a small drive away from the nearest airport. But don't let that dissuade you from making your way towards a coveted beachside resort such as the Banyan Tree Mayakoba, an elegant mayan palace of sorts carved out of stone monuments to luxury and taste. This is a truly tropical getaway right next to the beach, sporting an architecturally breathtaking aesthetic. Large sandstone columns, world class amenities and a delicious dining experience make this beach palace your home away from home. So why not lounge in your favorite tassel loafers. The most supple suede caresses your feet with comfort and slip-on ease in a honey-tobbaco brown that is sure to catch the eye for the right reasons. Live your coastal fantasy by keeping yourself in all white linen clothes and finishing the outfit on with this accent of color that kindly complements any skin tone, sunburnt or not.
And with that, you have our four favorite summer loafers along with our favorite Mexican summer getaway spots. Explore your world, and explore the world of luxury by traveling to Mexico for your new favorite indulgences and your new favorite shoes. Don't forget to prepare for every adventure that comes your way by shopping at joseluisrocha.com and keeping us updated by tagging us @jlrochashoes on instagram and twitter!
Happy Travels,
J.L. Rocha